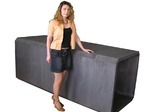 In Topgrafit, we specialize in graphite components and parts for vacuum, heat treatment and nitride furnaces. Currently we cooperate with many world famous companies within the EU.
Due to frequent purchases by our customers, we keep part of the assortment in stock, so we can respond promptly in case there is malfunction at our customer and in this way we are able to minimize the arisen failures in manufacture.
We also offer complete sets of graphite elements for renovation of older and impaired facilities, including technical counselling.